Most people would not connect the country of Sweden with the tradition of fine wine making. It is far north of the famous wine-growing areas in France, Italy or Spain, where the tradition is ancient.
However, climate change is making for warmer and longer growing seasons in Sweden. There are also new kinds of grapes created especially for the country's environment.
As a result, winemaking is a growing industry.
Its growth comes as drought, rising heat and other extreme weather are forcing traditional winemaking areas to re-think their growing methods.
The Swedish Meteorological and Hydrological Institute reports temperatures in the country's south have increased by about 2 degrees Celsius over the past 30 years compared to the 30 years earlier. The experts also say Sweden's growing season has lengthened by about 20 days.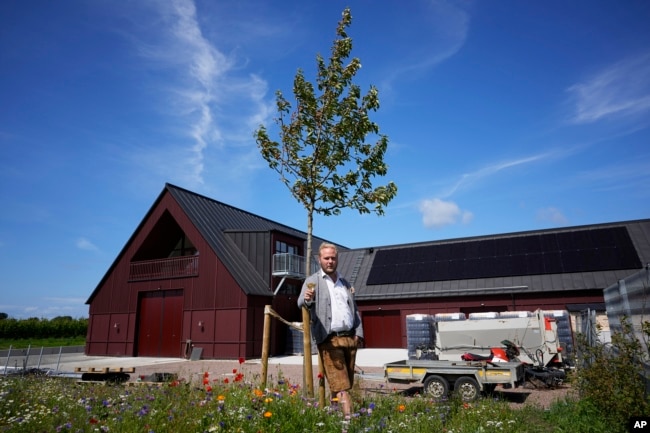 Felix Åhrberg is the chief oenologist, or expert winemaker, at the 14-hectare Kullabergs Vingard, near the North Sea.
He noted that the rising temperatures are hurting vineyards in traditional winemaking countries. At the same time, "we are gaining momentum," he said.
Kullabergs produces about 30,000 bottles of wine yearly. Some of their wines have won prizes in different competitions. Costly restaurants from Hong Kong to Europe sell the wine.
Even some oenologists from France are settling in Sweden to grow grapes and careers.
"It is the new frontier of wine making and grapes grow best on their coolest frontier," Åhrberg said.
Emma Berto is one such winemaker from France who now works at Thora Vingard, about 20 kilometers from Åhrberg's land.
She and her partner, Romain Chichery, moved to Sweden for the chance to lead a vineyard just after completing their education. They say Sweden's climate is more predictable than France's. There, the early spring weather can be too warm and the grapes begin to develop before they should.
In addition, Berto and Chichery said they want to use more sustainable grape-growing methods, including limits on insect poisoning.
Chichery said France has been making wine for so long, there are many rules winemakers must follow. In Sweden, it is a newer business so there is more freedom.
However, there is still a lot to learn about growing grapes in Sweden. The main grape grown in the country is Solaris, which began in Germany, and grows well in Northern Europe.
The winemakers treat the vines differently, too. In Sweden, the leaves are removed from the vines so the grapes can receive more sunlight. In France and Spain, sometimes winemakers are worried the grapes will get too much.
The Thora owners who hired the French winemakers are Johan and Heather Oberg. They depend on wine experts from the traditional winemaking countries because Swedish universities do not have study programs in the science and practice of winemaking.
Maarten van Aalst is a climate professor at the University of Twente in the Netherlands. He said businesses are often first to identify and react to climate change. He said it is good that "climate change is partly something we can adapt to."
But, he warned, it is not all good weather in Sweden. He pointed to recent heavy rains that caused flooding, resulting in $150 million in damage. He said bad weather is becoming more common because of human-caused climate change.
In Sweden, vineyards account for about 150 hectares of land. The number is one million in Spain and about 800,000 in France.
Swedish winemakers hope that as the industry grows, the government will make rules that help them expand their businesses. For example, right now in Sweden, wine makers cannot sell their own wine. People who want a bottle must purchase from a government-run store.
Mikael Molstad writes about wine. He said the Swedish government is not in favor of making it easier to buy alcohol.
"Politicians," he said, "still see alcohol as a social problem."
Goran Amnegård is a prize-winning winemaker who started 20 years ago. He is pleased to see more wineries opening in Sweden.
He thinks more people will come to take advantage of the warmer temperatures and longer growing time.
"I can see things growing here that were unthinkable 30 or 40 years ago," Amnegård said as he looked out over his small vineyard.
"We're seeing fruit trees like peaches and apricots. I'm getting beautiful peaches in August."
I'm Dan Friedell. And I'm Faith Pirlo.
Source : VOA News