Poland has proposed sending doctors to Georgia to examine jailed former President Mikheil Saakashvili, amid concerns about his health.
A Polish government spokesman said there was reason to doubt Saakashvili, 55, was receiving adequate health care from the authorities there.
The former leader is serving a six-year sentence for abuse of power. He says his trial was politically motivated.
He has staged hunger strikes and alleges he was poisoned in prison.
On Sunday Sky News quoted him as saying he had lost so much weight that doctors were concerned he was reaching a level where he could suffer multiple organ failure.
Mr Saakashvili's supporters say Georgian authorities are denying him proper treatment, but officials have said he is feigning his condition to secure early release from prison.
Polish government spokesman Piotr Muller said a Polish humanitarian aid team was ready to go to Georgia to "clarify" his situation.
"Now we are waiting for agreement from the Georgian side… as we know the situation concerning the medical care of the former president of Georgia raises serious doubts in the international community," Reuters news agency quoted him as saying.
The Polish government has previously proposed treating Saakashvili in Poland.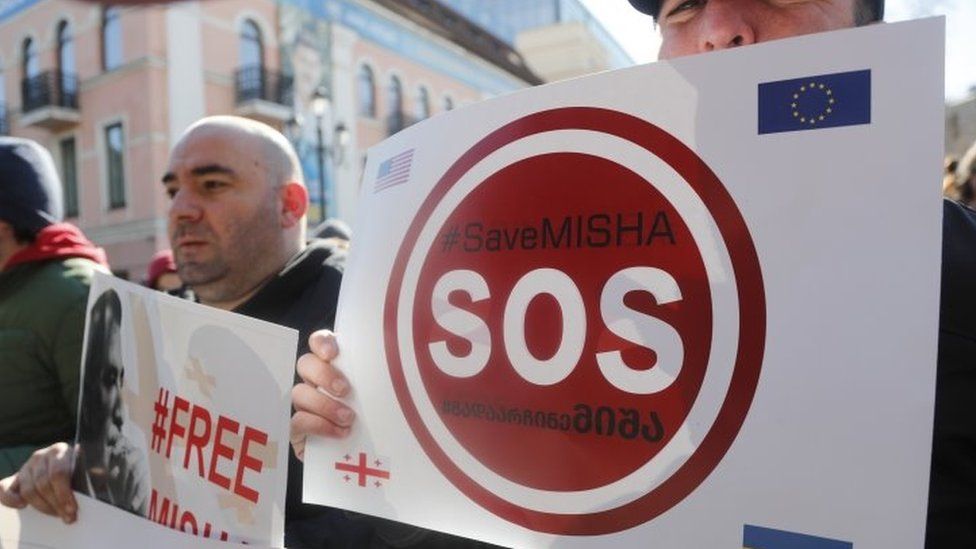 Saakashvili came to power in Georgia's Rose Revolution in 2004 and served until 2013. He presided over Russia's invasion of the country in 2008.
He later made a political career in Ukraine, serving as governor of Odesa in 2015-16.
He was convicted of abuse of power in absentia, and was then arrested after making a surprise return to Georgia in 2021.
He has lost weight and his health has deteriorated markedly since he was jailed in October that year.
Empathy, an organisation supporting victims of torture in Georgia, alleged on 1 December that Saakashvili had been diagnosed with illnesses "incompatible with imprisonment" and that Georgian and foreign medical experts had found evidence of heavy-metal poisoning.
In an interview for BBC World news weeks later, his son Eduard said his father, normally fun and charismatic, was a different person.
Eduard Saakashvili: It is terrible to see my father so ill
Last month world leaders called for his release, with Ukrainian President Volodymyr Zelensky saying the current Georgian government was trying to kill him.
However, Saakashvili remains active on social media. On Friday he voiced support for protests against a controversial draft law targeting non-government groups and media as "foreign agents" which led to the bill being dropped.
Source: BBC