Already known as a crossroads of Europe and Asia, Georgia finds itself at several promising junctures.
At a December 2022 meeting with leaders from three other neighboring countries and EU officials in Romania on the subject of green energy development and transmission, Georgia Prime Minister Irakli Garibashvili laid out the reasons why a future filled with sustainability commitments in the green transition might look to his country's age-old attributes as an advantage.
"Georgia's strategic geographic location makes us a natural bridge between the West and the East, serving as a gateway for eight landlocked countries of South Caucasus and Central Asia," he reminded his audience, "a crucial link on EU's Global Connectivity map and a game changer when it comes to diversification of transport routes and energy supply to Europe. With this in mind, we have made connectivity a top priority, with a special vision of connectivity of the Caucasus region and Europe. We are investing in expanding and modernizing our energy, digital and transport infrastructure," bringing those sectors in line with EU norms and standards just as the European Commission EU in June 2022 established Georgia's eligibility to become a member of the EU once certain conditions are met.
He was there to further an agreement connecting the power systems of Georgia, Romania, Azerbaijan and Hungary. But he emphasized the ultimate connection is from their countries to the rest of Europe. A big infrastructure project could make that happen: The 1,200-km. (745-mile) Black Sea Underwater Electricity Transmission Cable will not only increase connectivity, but support development of the renewable energy sector as well. Georgia has ample potential for power generation surplus from renewable energy sources (hydropower) that can supply neighboring countries. The 500-kilowatt network will have a 1,000-megawatt transmission capacity and cost a projected €2 billion, and will feature fiber-optic lines along its conduits too.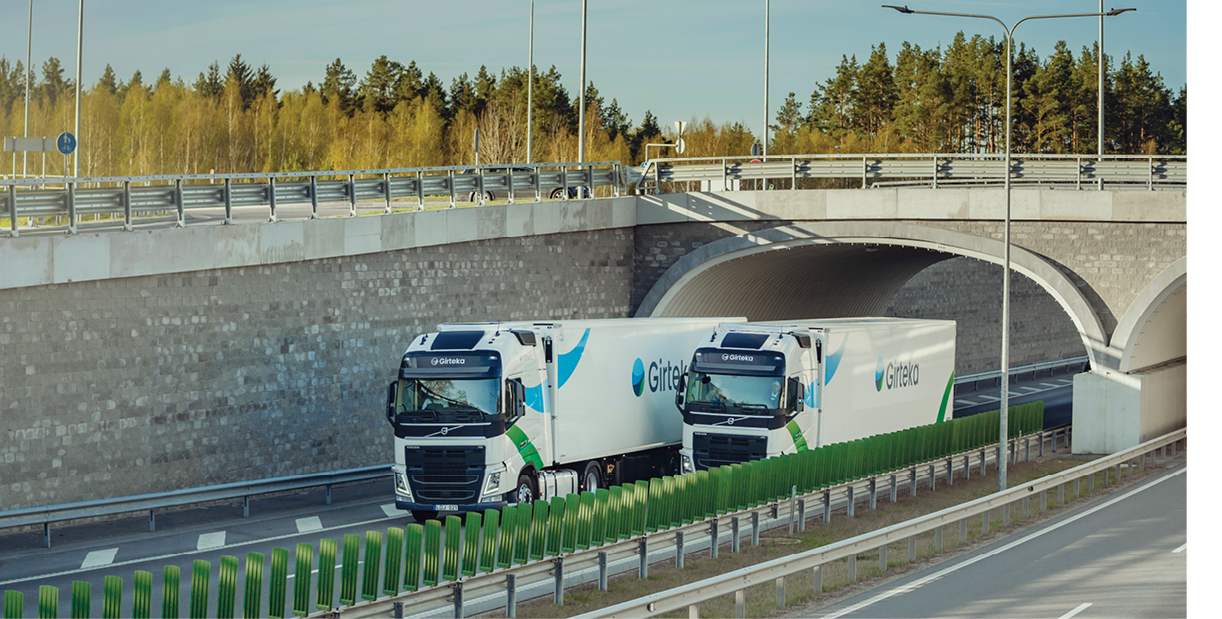 The opportunity comes at exactly the right time, as all of Europe and neighboring regions look to reinforce energy security as the unprovoked Russian attack on Ukraine continues to put the squeeze on hydrocarbon energy resources. Georgia has long been a transit point for those old-line energy sources, and now is poised to be a facilitator of the new.
"This is not just about handling a new geopolitical energy situation," said another meeting attendee, European Commission President Ursula von der Leyen. "It is also about grounding our future in clean, affordable and secure energy sources … The renewables are not only good for our planet, but they are also home-grown, create good jobs at home, independence and security of energy supply.
As it happens, the "Georgian government, after the several months of cooperation with the International Monetary Fund, has developed an energy support scheme to facilitate the use of renewable energies and attract investments to Georgia," Deputy Minister of Economy and Sustainable Development Romeo Mikoutadze said in October 2022.
"The Black Sea electric cable is a new transmission route full of opportunities," President von der Leyen said in December. "This project could bring Georgia, a country with a European destiny, great benefits as well."
The underwater cable is just one of many large infrastructure projects that, combined with policy innovation, talent cultivation and multinational corporate investment activity, are putting Georgia in the right place at the right time, and on the right side of history.
FDI Stats, New FDI Incentive
According to the Handbook of Statistics 2022 from the United Nations Conference on Trade and Development (UNCTAD), the country of Georgia and its nearly 3.8 million people in 2021 saw foreign direct investment totaling more than US$1.1 billion, 8% per capita GDP growth (about the same as China's) and exports of goods and services worth nearly $6.8 billion. 2022 has shown even more promise: Preliminary data for Q3 2022 showed FDI during the quarter totaled $745.3 million, double the amount of Q3 2021. Moreover, real GDP during the quarter increased by 9.8% year over year.
One of the country's FDI projects in 2022 came in November, when U.S. IT and software company Lineate became the first company that will benefit from the state program to support foreign investment projects. After fulfilling its investment obligations, the company will receive 15% cashback of the invested amount in form of a grant. The program can be used by international companies operating in the advanced manufacturing (electrical parts, auto parts, and aviation parts), business processes outsourcing and IT, logistics and aircraft maintenance (MRO) sectors.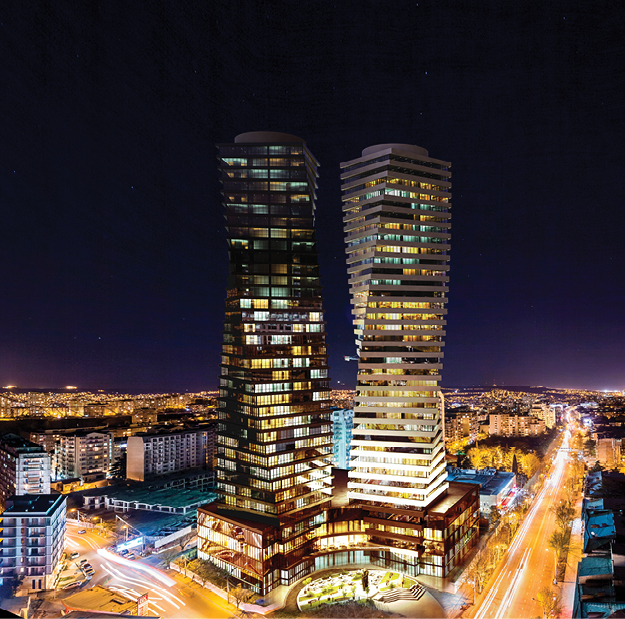 Lineate, a global software consultancy based in New York, established its Georgia office in 2022 and currently employs around 85 people. As part of the FDI grant, agreement the company will invest $700,000 in Georgia and create at least 50 new jobs.
"We aim to create a model tech ecosystem and grow local talent, working with Georgian universities and other responsible stakeholders and helping to put Georgia on the wider map as an up-and-coming regional tech hub," the company has said.
True to its word, in addition to opening its primary European development center in Tbilisi, the company has launched a development school for university engineering students.
Another foreign firm investing in Georgia is Lithuania-based Girteka, the largest asset-based transport company in Europe, which chose Georgia as the location for its Global Business Services hub and is aiming to create 300 jobs there by the end of 2023.
"The decision to grow in an additional international market is strengthening the company's bid to be among the top 10 logistics companies in Europe by 2026," says Tomasz Weber, Girteka's head of corporate communications. "We chose Georgia out of a list of six countries, all of which went through a very deep due diligence process by us, where we looked at several factors, including the talent pool, education and competence level, business climate and the cost of doing business in the country over the following years. During the whole process of establishing Global Shared Services, we had support from Invest in Georgia, which provided us with all the information we needed to make the right decisions."
Asked about the talent base thus far, Weber says, "The labor market itself is quite competitive, especially if we are talking about IT employees or developers. However, we already have noticed many options in the market with very good candidates in the areas of accounting [and] customer care."
"We've seen a significant increase in the services sector with BPO and shared services centers, especially in IT," says David Tavlalashvili, head of the Investment Department for Invest in Georgia. This process has accelerated since conflict erupted north of Georgia in February 2021. "A lot of companies and employees from the region need to find a new home, and a lot of them chose Georgia."
Much like its new shared services client Girteka, which has played a major role in delivering humanitarian aid to Ukraine, Georgia has been at the forefront in funneling support in the other direction too, channeling the energy of its Produce in Georgia campaign into "Produce for Ukraine."
"Our beneficiaries collected goods and we sent quite a lot of products to the people of Ukraine," he says. "Some of the refugees here were here as tourists when everything started and couldn't go back. We have provided a lot of support."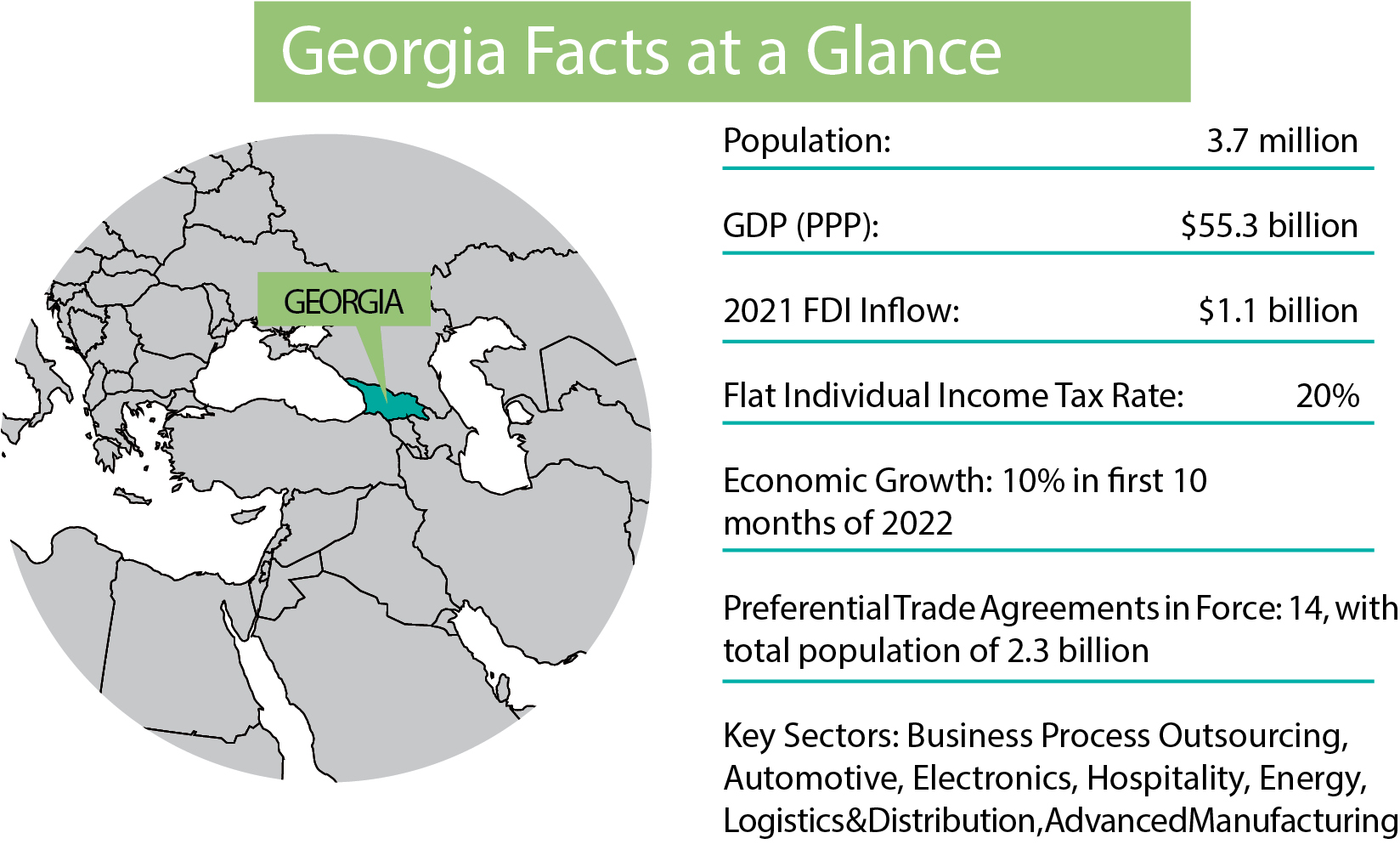 Connection and Inclusion
Since 1994 the European Bank for Reconstruction and Development has invested more than €5 billion in Georgia through 278 projects. with momentum picking up in recent years as more than €1.5 billion was invested between 2016 and 2021. The European Investment Bank (EIB) has been active in Georgia since 2007. Connectivity is the key word, beginning with investments such as €34 million for expansion of the national broadband network in rural areas of Georgia and longstanding investments to improve transport infrastructure, such as the East-West Highway, which EIB says "support Georgia's transformation into a regional trade hub."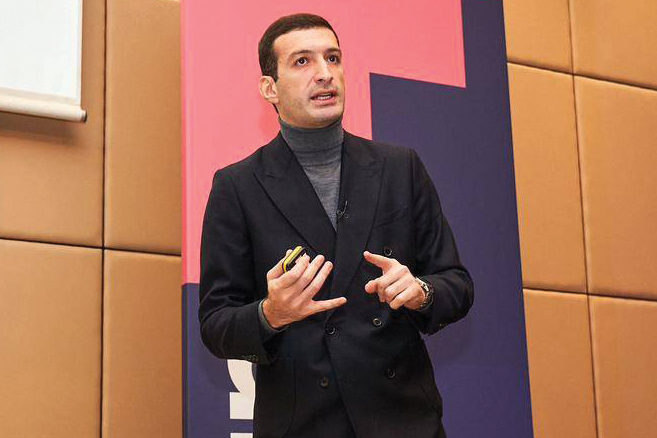 Tavlalashvili says the €600 million East-West Highway Improvement Project is just one of the huge infrastructure projects now underway in his country. But it's a big one, with a total length of about 185 km. (115 miles). Several sections were completed in December 2022, with other sections due to be completed in 2023. The highway is projected to help reduce the travel time from Tbilisi to Batumi to just three hours by 2024.
"This will basically cover the whole country with highway," he says. "It's a huge undertaking that started before the pandemic, never stopped and should be concluded by next year. Most of it is already finished, with one very mountainous part under construction right now. When finalized, that short section alone will have 96 bridges and 58 tunnels. That will make things easier for sure for travelers and for goods movement," cutting an hour's drive down to 20 minutes or less.
Putting People First
Bridging one place to another means nothing if you're not connecting to human and business needs.
Another compelling development has been the establishment of a new vocational skills agency by the Chamber of Commerce and Industry of Georgia and the Georgia Ministry of Education and Science. Overseen by education boards comprising business leaders in various sectors, the program is very much led by which skills and certifications those companies need.
Led by Director General Tamar Kitiashvili, the Vocational Skills Agency in 2022 has renewed orientation courses in 450 public schools throughout Georgia to develop professional skills in public school students.
"The companies will put in place their needs. Professional education will provide specialists," says Tavlalashvili of Invest in Georgia. "It will eliminate potential gaps between education and the requirements of the companies."
In a word, it will connect. For investors considering Georgia, that's the watchword to pay attention to and, before too much time passes, take action on.
Places to Be, wonders to see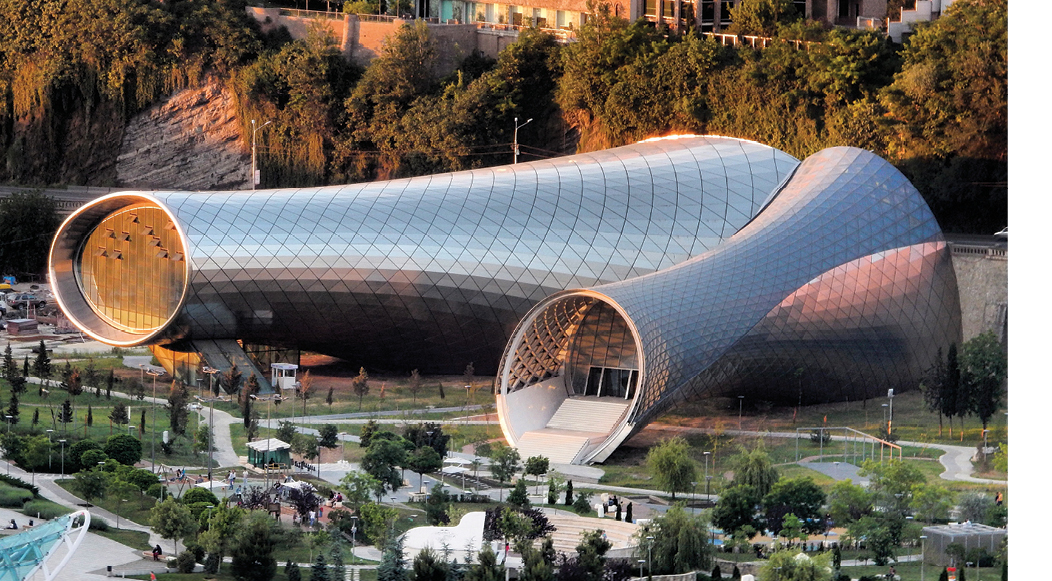 With places such as Rike Park (pictured left) to visit, residents of Tbilisi and other Georgia cities don't have to go far to enhance their quality of life. But the numbers say the world's tourists are ready once again to go far to see Georgia.
Revenue from tourism reached $3.2 billion between January and November 2022, a 103.5% recovery from the same period of pre-pandemic 2019 and a 182.4% increase over the same period of 2021, the National Tourism Administration said in December. A total of 4,862,247 international travelers visited the country in the first 11 months of 2022, a 185.5% increase year-on-year.
The government of Georgia in November 2022 announced it will will launch a $73.4 million program for developing new tourism locations while upgrading the existing destinations in the country.
Meanwhile, following on the success of a "Fast and Furious" film and other productions, the country's emerging film scene continues to attract attention and investment. A group of Hollywood film industry representatives and scouts in September visited Georgia as part of Invest in Georgia's and USAID's economic security program partnership, learning about Georgia's creative industry and visiting filming locations across the country.
Film producer Matthew Zamias, who produced the 2021 film "Boxing Day" among others, said "It would be our great privilege to bring our next project to Georgia for both its beauty and burgeoning film infrastructure."
Source :  Conway Data