1. Secret societies: a uniquely American obsession?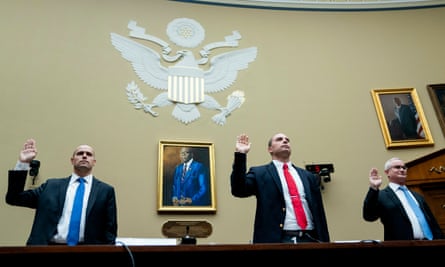 The recent (mad) UFO hearings in the US reminded David Smith of that country's powerful hunger for conspiracy theories. He interviews cultural historian Colin Dickey, whose new book, Under the Eye of Power, looks at examples spanning the Salem witch trials, the freemasons and QAnon – and who sees conspiracy theories as "hardwired into how many people process democracy". There's "almost a template" for fears of secret societies, Dickey says – albeit with new and exciting mutations courtesy of the internet.
Going back up the rabbit hole: When it comes to untangling beliefs that can seem "impervious to reason", he believes the key is emotional. "You don't debunk the theories unless you first lay the groundwork for an off-ramp for whatever that emotional need is that led them to embrace the theory in the first place," he says.
How long will it take to read: four and a half minutes.
2. Piano tuners: an endangered species?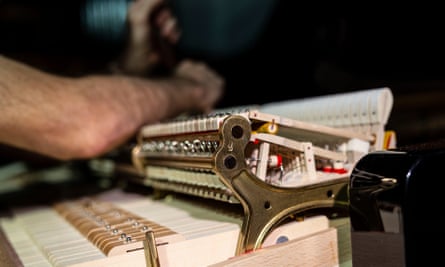 David Kinney has been the piano technical manager at the Sydney Conservatorium of Music since 2010. He's worried about a looming dearth of expert tuners in Australia, and he would know. As Elsie Lange explains, general tuners can give most home pianos a basic service. But it's technicians proper who maintain and rebuild them – especially concert-grade instruments.
A long game: "People think, 'I'll learn to tune a piano, I'll do it in a year and that's it'," Kinney tells her. "But no, it takes 10 years to learn how to tune a piano, and 20 years to master it."
How long will it take to read: two and a half minutes.
3. Endometriosis: hope for a breakthrough?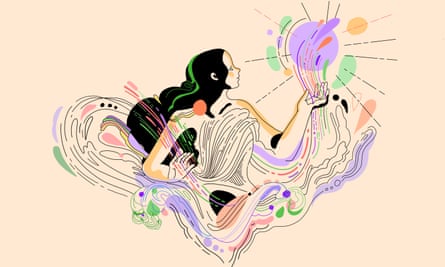 Guardian Australia's Gabrielle Jackson has been writing about endometriosis for almost 10 years. But this week, she said, was "the first time I've written with something resembling hope". After decades of inaction, new pathways may be emerging in understanding and treatment of the crippling chronic disease scientists now describe as "a whole-body inflammatory condition".
What's it like to experience? As Jackson explains, endometriosis "can alter a person's nervous system and have severe quality of life impacts, reducing a person's ability to work, maintain relationships and take part in social activities".
"When this inflammation feedback loop works in uterus-brain axis it shows up in people with endometriosis or chronic pelvic pain via symptoms including irritable bowel syndrome, painful bladder syndrome, pelvic muscle spasm, chronic fatigue, poor sleep, anxiety, low mood, nausea, dizziness, feeling sweaty, headaches and brain fog."
A lot of exhaustion and pain, in other words – but maybe, hopefully, not for the long haul.
How long will it take to read: five and a half minutes.
4. Living in Tbilisi as a Russian: tenable?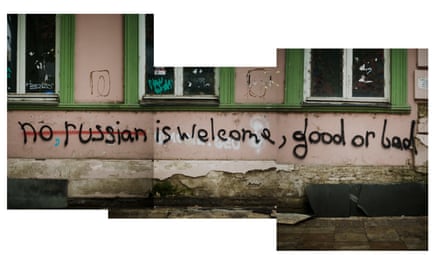 For Russians fleeing their homeland after the invasion of Ukraine, neighbouring Georgia was a logical destination. But inevitably, as Joshua Kucera writes, "tens of thousands of Russians had the same idea". The influx has overwhelmed its capital, Tbilisi, "taxing its housing and social infrastructure, and exacerbating existing political and cultural rifts".
A lot of water, no bridge: Between the two countries stretches a vexed and violent past of annexations and separatist wars. Kucera explains some of this history, the roiling tensions in the territories of Abkhazia and South Ossetia that for many (but not all) Georgians are "just the latest chapters in a centuries-old story of Russia thwarting Georgia's national ambitions".
He reflects on the anti-Russian graffiti proliferating around Tbilisi and the complexities it reveals about the shared and clashing experiences of the city. "To live [there] is to be enveloped in layers of responsibility and victimhood, to inhabit a hierarchy of perpetrators, colonisers and colonised."
How long will it take to read: eight and a half minutes.
5. Loving Sylvia Plath: OK?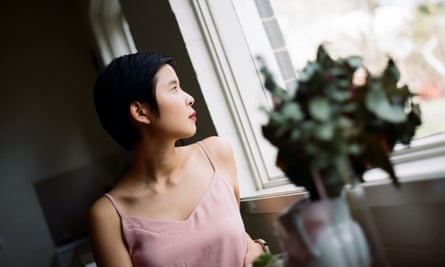 Always here for a nuanced take (people overexplaining sad girl books to me, less so). This week's was Jessica Zhan Mei Yu on The Bell Jar, the book that "has meant everything to girls everywhere".
"Plath's 1963 novel unleashed legions of artistic and chronically misunderstood girls on the world, allowing us to be exactly who we already were," she writes; "highly sensitive, stuck-up, dazzlingly clever, crazy, ambitious, aimless, awkward and depressed". But revisiting the book in her late 20s, she noticed for the first time how Plath wrote about women of colour.
Source : The Guardian